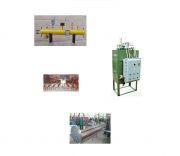 VAPORIZERS LPG WATER AND ELECTRIC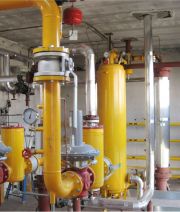 LPG VAPORIZATION, FEED-BACK, AT SERVICE MUNICIPAL GAS PIPELINE Flow rate 4000 KG/H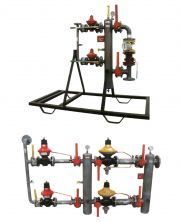 LPG REDUCTION STATIONS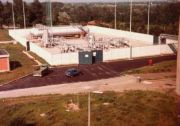 LPG VAPORIZATION POWER SUPPLY CENTRAL THERMOELECTRIC POWER STATION Line steam boiler 15 ton/h 3 bar - Line gas Turbine 8,5 ton/h 20 bar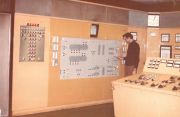 CONTROL PANEL VAPORIZATION LPG, CENTRAL THERMOELECTRIC POWER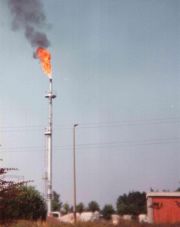 TORCH AT SERVICE LPG VAPORIZATION , CENTRAL THERMOELECTRIC POWER Flow rate 10 ton/h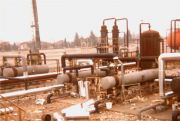 LPG VAPORIZATION IN CONSTRUCTION, MEDIUM PRESSURE LINE AND HIGH PRESSURE LINE



The liquefied petroleum gases (propane, butane), are stored in the tanks at the liquid state, and for their use are brought to the gaseous state.
This operation, vaporization, requires an amount of heat which, for small needs, is satisfied from the natural vaporization, by using the heat contribution from the environment at the storage tank. When the natural vaporization does not meet the demand, the vaporizer is used, a solution which allows to obtain high gas levies.
Furthermore, the liquefied petroleum gases, are generally a mixture of components having different volatility, therefore the use of the vaporizer allows the provision of a gas at constant composition avoiding the distillation that would occur with the natural vaporization. We have vaporizers for the liquefied petroleum gases with electric heating and with hot water heating, to address the needs of industrial and civil plants.

 

FLOW RATE Kg/h

SNAM spa CASSANO D'ADDA (I)

FEED-BACK

15000

FEED-OUT

8500

COMUNE di SANNAZZARO DE' BURGONDI (I)

FEED-BACK

4000

CONSORZIO AGRARIO PROVINCIALE di BRESCIA PONCHERALE (I)

FEED-BACK

900

G.E.M. srl (I)

FEED-BACK

200

SCUOLA VIGILI DEL FUOCO BOLZANO BRONZOLO (I)

FEED-OUT

400